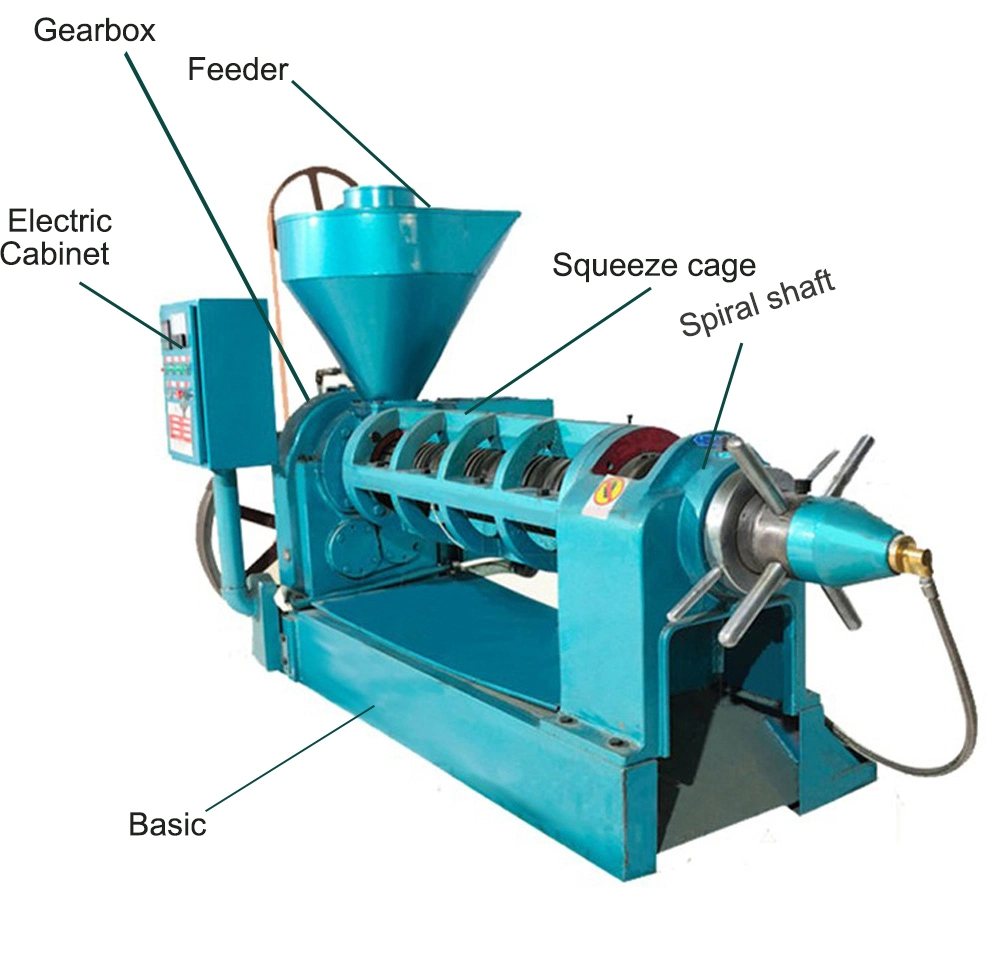 1. YZYX120SL Characteristics:
-The YZYX12SL is one of our advanced screw oil presses with water cooling system and lengthened squeeze cage.
-Our company possess patent of it.
-The water cooling system makes sure the squeeze cage having constant proper temperature during working, so to avoid the nutrients, such as the vitamins, fatty acidsand manieral ets in the oil getting lost because of the rising temperature.
-The function of auto-warming up the press cage has replaced the traditional way by squeezing residue cake, It could shorten the preparation work and reduce the energy consumption. When the squeezing is suspended, the temperature can be maintained by this system.
2. Applicable oil producing business
-Many oil plants, such as rapeseeds, cotton seeds, soybean, shelled peanut, flax seeds, sunflower seeds and palm kernel, etc.
-Oil refinery, oil mill and oil squeezing workshop, especially for processing oil plants provided by clients.
3. YZYX120SL has more advantages:
-Longer press cage will generate stronger pressure, squeezing efficiency is high.
-Day capacity 7 ton/ 24hours.
-YZYX120SL has patent, more popular.
4. Main customer
Users are widely from Asia, South America, East Europe, Russia and so on.
5. Warranty terms:
A. Free replacement of accessories in 6 months from the date of purchasing.
B. Free replacement of main body in 12 months from the date of purchasing.

Technique Features

Product Name

Spiral Oil Press

Model

YZYX120SL

Processing Capacity (t/24h)

7.0

Oil Conten of dry cakes (%)

≤5.5 (best value)

Power Required (KW)

11 (Y160M-4)

Measurement (mm)

2150×1100×1350(L*W*H)

Spiral axes rotate speed (r/min)

37-45

Weight (KG)

808

Main Oil Plants

Oil Plants

Processing Capacity (t/24h)

Oil Content of Dry Cakes (%)

Rapeseed

≥7.0

≤6.0

Cottonseed

≥7.0

≤5.5

Soybean

≥6.0

≤5.5

Peanut

≥7.0

≤6.0